Blessed with a pristine beach, a charming high street, and the vast expanses of the Snowdonia national park as its back garden, Barmouth in north Wales is a beautiful part of the world.
But, with a permanent population of just over 2,500 and a two-hour drive to the nearest city, it's not the sort of place that stands out immediately as a bustling commercial hub – much less a centre of interior design and bespoke cabinetry and furniture.
Jack Brooks changed all that when he launched Pieces for Places in this corner of north Wales back in September 2014.
"I was born and brought up here in north Wales," he says. "After college I travelled around, I went abroad." He lived near Geneva, worked in Australia for a year, moved to Berlin, and then lived in France for two years.
"When it was time for me to settle down and think about where I wanted to live, I decided I wanted to come back to north Wales, but all the interests I'd got from living abroad were to do with interiors and furniture design, and there wasn't anywhere for me to just apply for a job around the local area. So, I knew that if I wanted to live here and work in the furniture and design area, I had to create something for myself."
Although his initial idea had been to run a bespoke design and furniture business, Brooks pivoted towards a shop when he found the restored Victorian Methodist chapel that Pieces for Places now occupies. "Because we moved on to a high-street location, it had to be a little more retail-based," he explains. "Which is what's happened. And now I'm actually really glad about that, because I love the retail side of it all – having a shop where people can come and chat about what you've got on show."
But why go to the effort of setting up shop in such a remote corner of Snowdonia? Brooks says he's not the only person drawn back to the area: "You hear of people who have been coming on holiday here for 60 years. They came with their kids and now they bring their grandchildren."
Barmouth's status as a holiday destination means Pieces for Places gets a lot of tourists passing through, but it can be hard to pin down buyers when you're this remote.
Word of mouth can do a lot of the work, but reminding customers about the business can be tricky. "You can be as friendly and as nice as you like in the shop, but then if people are going to forget about it when they leave, that's not much use."
For Brooks, this is where using social media comes in. "With Facebook, when they leave, you can remind them of what it's like to be in the shop, even when they're not there."
Brooks uses Facebook for Pieces for Places as a way of getting his company's personality across to his customers. "I was using Facebook a lot anyway, and I knew what it could do. Then I opened the shop and started really doing a lot about the business through Facebook. And that helped the word spread.
"We made a decision early on that our advertising was never going to be about selling – it would be about promoting our company's values and personality. The problem is that if you've got a promotion on a sofa, your audience is so limited, because the only people who'll be interested are those thinking about buying a sofa at that precise moment in time. If you put '50% off' or 'have a look at this product', that narrows your audience. What we try to do is engage with as many people as possible.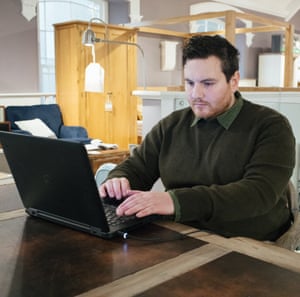 "We're all about finding something we can connect with people about. The weather is a really popular one – if we post a picture about the weather in Barmouth, that's going to get loads of people sharing and commenting, and then you're in their psyche.
"We just want to be gently reminding people that we're here, we're still doing what we do, we still believe in having fun, and that's it really. And then when the time comes to buy a sofa or a mattress, they think: 'Oh, I'm going to go to Pieces for Places and see what they have.'"
But does it work in practice? Brooks highlights a viral video the business shared on Facebook a few years ago. It got a huge reception, and more than a million views, he says, "but we didn't see any immediate uptick in sales from that. However, people still come into my shop today, years later, and say: 'Oh, I saw your video, are you doing a video this year? I love your videos.'"
However, you must not forget your essentials, he advises: "You've still got to build a good business and make sure that your quality is high, but then are the people coming into your shop because of Facebook? A lot of the time, I think they are.
"We're remote, but the shop is absolutely full and it's not exactly high season. Why do people drive quite long distances to come here? It's got to be because we stay in touch by those Facebook posts. It keeps us in contact with our customers, even when they're not here."
Source link