On a vineyard tucked away in the Cornish countryside, winemaker Sam Lindo spends much of his time crushing grapes and checking his fermentation tanks alongside his small team, his parents and his children. When he's not getting hands-on with the wine making, he hops online to talk to those who enjoy the fruits of his labour.
"One of the most rewarding things about what I do is wondering: how many people are drinking our wine on Christmas Day?" Sam posted earlier this month to his Facebook following.
"We drink it on Christmas Day," one woman swiftly replied, "but we also had it at our wedding." A second person replied back: "When my girlfriend and I got engaged last Christmas, we toasted with your rosé brut!"
One of Sam's favourite parts of leading the Camel Valley winery is keeping in contact with customers dotted around the world. Some customers send messages to say they tasted a glass of its wine at an event in London, and then tracked down its name so they could order it online. Others have visited the vineyard to see their favourite tipple being made in person. On Facebook, Sam and his father share photos of the children out in the field, or post reminders for customers to put in timely orders. "It's important for us to remind people of what we do," Sam says.
At the heart of the Camel Valley vineyard is family. Bob and Annie Lindo, Sam's parents, planted their first 8,000 vines in 1989, swapping life in the Royal Air Force for the tranquil scenery in Cornwall. Two decades later, the now award-winning winery has been passed on to the next generation. Sam returned to work in the family farm – where he had grown up – in 2002, after considering a career in the City.
"All of the family are hands-on and chip in to do everything," Sam says. "Our boardroom meetings are done on family walks, in minutes!"
Camel Valley's business is thriving, and Sam believes that's partly because customers are interested in discovering, and staying loyal to, local wine. "We have harvest in October, when we crush the grapes and blend the wine. Then, in the run-up to Christmas, we get a huge influx of orders. Later, around Easter, we bottle the still wine, and in June we bottle the sparkling wine. We're busy all year around, labelling, crushing, and delivering!"
Though many years have passed since the winery opened, the ways in which Camel Valley wine is made and bottled have remained the same. The only difference day to day, Sam says, is technology.
"It's made a huge difference in our lives," Sam says. "Ten years ago, it wasn't possible to even ring us up, as we'd be so busy with tour bookings and orders. That's all gone, and our phone hardly rings any more – everything is done online."
"I remember when I came to work here full-time, and I used to handwrite cheques to our suppliers, writing out their addresses each time – I'd end up with hand ache," Sam laughs. "But today, we can talk to customers and take orders at 6am from our beds, wearing pyjamas!"
Word-of-mouth recommendations are important to the Lindo family. Thanks to the internet, they've not only kept in touch with long-term customers, but are reaching new ones, too. That is partly down to how people find Camel Valley, Sam says. He made the company's first website in 1999, describing it as a "Yellow Pages-style" page. At the time he thought there was little point in attempting to compete with keyword searches and big businesses, so he kept the website simple. "And since then we've always kept it all simple, from our website to our social media," he says.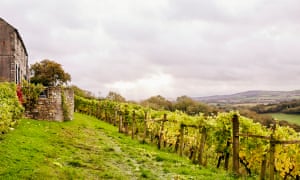 Sam decided to skip traditional advertising and use Facebook's promoted posts to reach people instead, often targeted by location or shared interests. He hopes to build future long-term connections with people who love the wine – Camel Valley already supplies to Waitrose nationally, Fortnum & Mason and Hakkasan in London. It also exports to Japan.
"Before Facebook's adverts, we'd never paid for an ad in our life," Sam says, "and it didn't cost us much to simply try it out. We didn't use adverts on Google or on sites, as I think they're ineffective. My brain has learned to cancel them out, and I'm sure lots of people are like that.
"Now," he adds, "our customers come back again and again, whether they've found us through a recommendation from a friend, or they've seen a promoted post on social media."
Sam recently shared a photo of his children helping with the winemaking, with the caption: "Winemaking, always a pleasure and never a chore!" He doesn't want to anticipate his children joining the winery, but he hopes Camel Valley stays a family-run business in the future.
"A lot of companies want to keep getting bigger and bigger," he says, "but when you see older wineries in countries like France, they've been around for 100, 200 years, and they're run by the great-great-grandson of the founder. We hope to have something like that – a sustainable business that will be here in 100 years' time."
Source link