Across the country tens of thousands of teenagers are embarking on the start of their university life. Two of these are University of Bristol engineering student Kit Logan and University of Oxford geography student Ed Hardy, but their student experience will be unlike those of their peers.
The hardest choice facing most freshers is deciding what university societies to join or which bar to go to. Meanwhile, Logan and Hardy will have to find time in their busy academic and social schedules to run two businesses.

Hardy and Logan, both 19, are part of a rare breed, that of the teenage entrepreneur. They set up their first business, a skiing app called Edge, after their GCSEs and have since gone on to launch the Young Founders enterprise programme for teenagers.
Last year, UHY Hacker Young found that there were 26,420 companies with a director aged 21 or under in the UK. However a YouGov survey commissioned by Google this year revealed only 22% of young people aged 15-18 were interested in founding a startup. The aim of Young Founders it to reverse this so the majority would consider setting up a startup.
"It does not seem to be highlighted in schools that working for yourself or running your own business is very valuable and can be just as prosperous as the traditional doctor or lawyer routes shown off in careers departments, which we personally feel are completely out of date," says Logan.
Fellow pupils can also be dismissive of people who set up a business while still at school. Ollie Forsyth set up his first business – an e-commerce retailer – when he was only 13-years-old, but his business aspirations drew derision from the other children at Milton Abbey school in Dorset. "I was the only kid in school with a business and I think they just saw that as weird," says Forsyth.
He has gone on to prove any doubters wrong and this month launched the Budding Entrepreneur Club at an event hosted at The Shard and attended by more than 200 entrepreneurs, including Dragons' Den star Levi Roots.
Fortunately for aspiring entrepreneurs, successful business people are willing to provide support. "I emailed every single high-profile entrepreneur in the country and most of them actually replied," says Forsyth. "Many young people have ideas but not enough action and if you can find that one person to act as your mentor that can really make you succeed."
Hardy reveals he pursued a similar strategy when starting up when he did the "naive young person thing of badgering a whole load of people on Twitter".
Eileen Burbidge, a partner at Passion Capital and a member of the prime minister's business advisory group, replied and invited Hardy and Logan to the White Bear Yard co-working space for three months to give them a taste of startup life.
While the teenage entrepreneurs have received moral support from their parents they have steered clear of asking them to bankroll the business. Hardy and Logan attended Eton but say from the start they were "keen to avoid the trap of private school people and raising money from parents" to avoid damaging their credibility.
Instead they successfully raised money for their Edge business from a venture capital seed round that included Spotify backer Frank Meehan.
The naivety of youth is a recurring theme cited by the teenagers and rather than it being a disadvantage it can give them the edge over older rivals. It is what gave them the confidence to contact strangers for advice.
Hattie Wrixon left Streatham and Clapham high school after her AS-levels and set up Uni's Not For Me, a blog about leaving school at 17, which has now evolved into a full-time business. She believes teenagers recover more quickly from set-backs. "Young entrepreneurs have more time to make the mistakes and you are probably a bit more naive so you are less likely to feel the pain every time you get knocked back," she says. "You just go for it and the energy and ambition is remarkable."
Logan also argues teenagers often have less to lose. "The risk element of starting a business is massively reduced as a young person because if you leave your traditional career for a startup you are having to support yourself a lot more than a teenage founder would," says Logan. "We were still doing this from the comfort of our parents' home without the need for a salary – you are in a relatively risk free stage of your life."
Neither Logan or Hardy's parents were business owners themselves, but Wrixon's mother owns her own PR business and this allowed her to see the behind-the-scenes of running a business.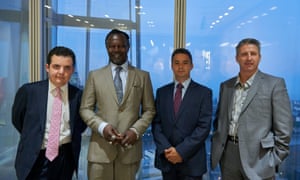 So if they were not necessarily inspired by their parents' career paths, what is the force driving teenage entrepreneurs? Hardy believes it could be in part inspired by the culture of aspiration that has developed from high profile entrepreneurs such as Richard Branson.
Forsyth, who has dyslexia, says his ambition has been driven by his academic performance. "I thought I was a failure at school so I said to myself 'I'm not a failure' and I've got to work," says Forsyth, banging his hand on the table for emphasis.
Whatever the personal circumstances, there is one thing the teenage entrepreneurs are agreed on, and that is the importance of encouraging other teenagers into business.
"For our generation we are going to face a huge amount of problems, be that through climate change, or conflict, or the scarcity of resources," concludes Hardy. "The mindset startup founders have is really valuable for solving those problems and we will be at a loss if we can't encourage more people to take on that risk."
Sign up to become a member of the Guardian Small Business Network here for more advice, insight and best practice direct to your inbox.
Source link